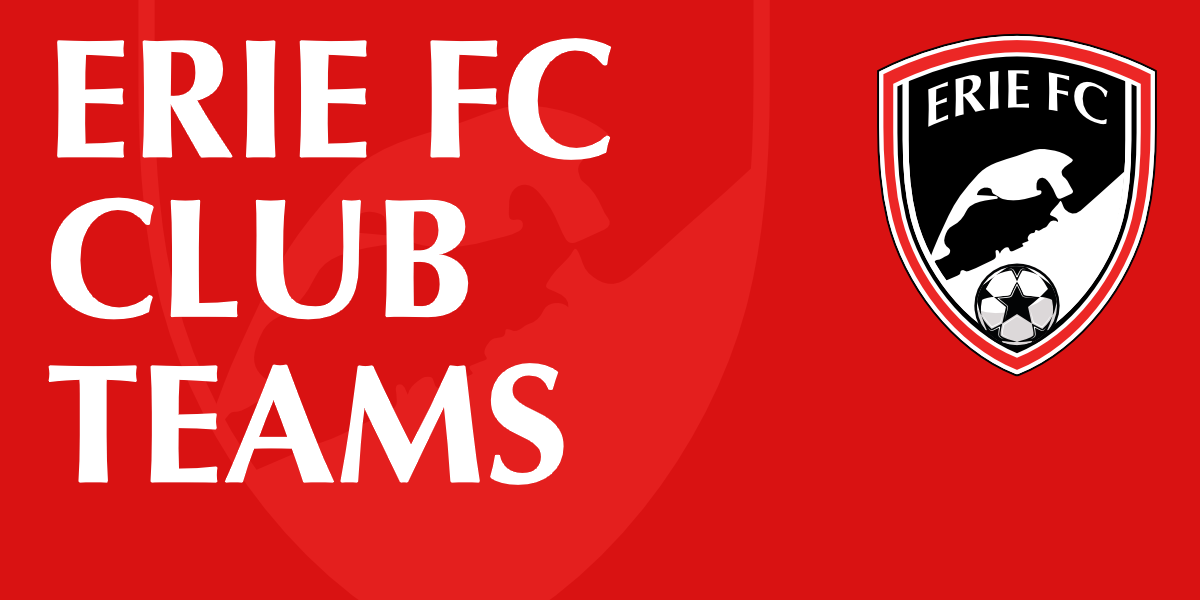 U11 – U19 Players
Black "Premier" Teams
Premier players follow an intricately designed curriculum aimed to prepare them for advancement to the elite levels of play. This curriculum includes: building their soccer IQ's, technical proficiency, mental and physical conditioning. Our Player Development Coaches are adept at keeping players motivated and maintaining healthy interactions with their teammates while maintaining the balance between productivity and enjoyment. The Premier program requires a yearly commitment and offers a higher time and financial commitment than other travel and non-travel programs. Our Premier teams compete in local, statewide, and regional league offerings with aims of participating in the PA West State Cup and/or US Club Soccer Western PA/NY State Cup.
Red Teams
ERIE FC Red is the first stage of "travel" club soccer. Travel is not as extensive and time consuming as "Premier" soccer, as it is typically limited and shorter distances of travel. The goal of ERIE FC Red is to provide an environment in which the level of competition, commitment, and player development falls between that of the recreation and premier levels. This program is geared towards the players that have played recreational soccer for some time – and want to "jump to the next level", in order to prepare for grade school, middle school or high school soccer. All Red-level coaches are paid, experienced, licensed club soccer coaches and have a responsibility to develop the soccer skills and team play of their players. It also prepares players that are ready to commit to the Premier level and need to refine their skills and general tactics. With two training sessions per week, Red Level players will rapidly increase their skills and abilities. Red teams participate in the PA West Soccer Association sponsored leagues. Based on age and level, teams typically compete in 1-3 tournaments annually.
Program Overview
aGE gROUPS
U11 = 2013 birth year
U12 = 2012 birth year
U13 = 2011 birth year
U14 = 2010 birth year
U15 = 2009 birth year
U16 = 2008 birth year
U17 = 2007 birth year
U18 = 2006 birth year
U19 = 2005 birth year
Season
Grade School Ages (U11 – U14/15)
Start: August 2023
End: June 2024
10-month program
High School Ages (U15 – U19)
Start: November 2023
End: June 2024
7-month program
Club Teams Details
coming soon…
Player Tuition & registration
Uniform Fee
Uniforms are purchased separately via the ERIE FC Team Store.
Prior to the season, teams and players will be added to the Team Store. You will receive a link to order the required uniform items directly from the uniform provider.
Player Registration
Player Evaluation & Team Placement: Players must be evaluated and assigned to a team prior to registration.
If you missed evaluations and are looking to join mid-season, please contact our ERIE FC Directors.
REGISTER A PLAYER