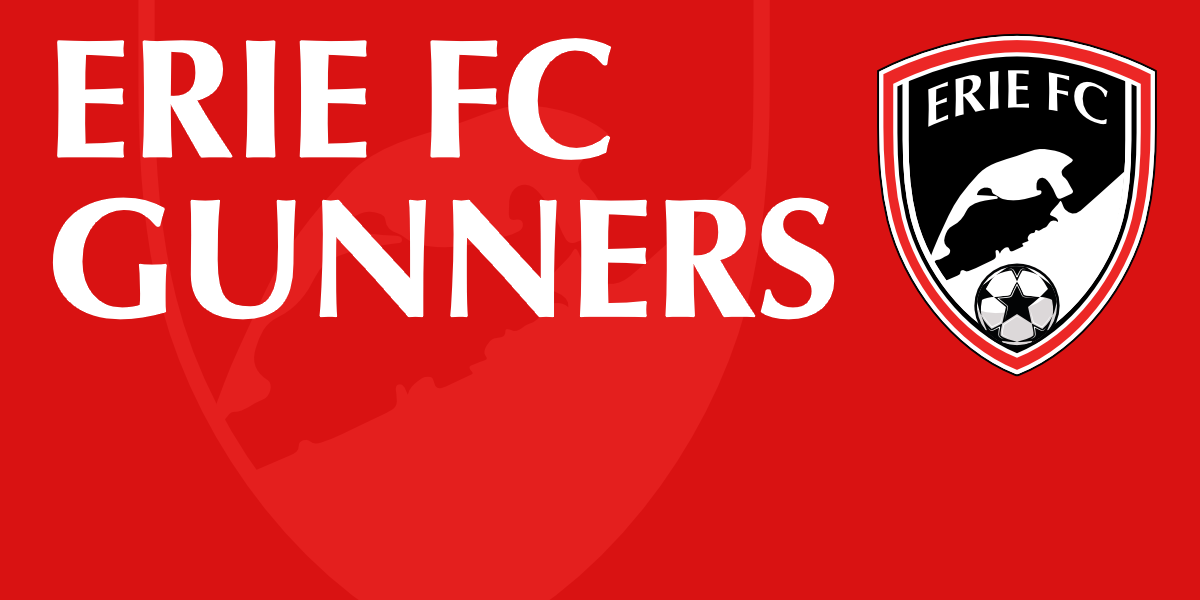 U5 – U8 Players
Skill Development + Game Play
ERIE FC begins with the Gunners program designed for players U5, U6, U7, U8. Our professional staff will provide age-appropriate technical instruction in a training environment featuring exciting games and skill activities. The program features weekly training sessions with a weekend game for the U6, U7, U8 age groups.
ERIE FC Gunners is open to all players regardless of current skill level or previous playing experience. Players will be placed into proper training groups based on age, skill level, and soccer experience. Training focuses on the development of individual soccer skills, which is necessary for success once players move into the competitive team environment at U9 and beyond.
The program follows the school year calendar, with a new season beginning each Fall (typically the last week of August).
We also offer a Gunners Summer Program that runs June – August.
Program Overview
aGE gROUPS
U5 = 2019 birth year
U6 = 2018 birth year
U7 = 2017 birth year
U8 = 2016 birth year
Based on the recommendation of the coaching staff, players may play in an older or younger age group if it's a better fit for the development of the player.
Practice options for each age group / birth year are listed below.
Season
Start: August 21, 2023
End: May 25, 2024
ERIE FC Gunners has open enrollment. Players can join or cancel at any time throughout the season.
Practice Options
All players will choose one practice option within their age group.
Players that register for 2 practices per week, will simply choose an additional option.
During step 2 of the registration process, you will select your practice option(s).
Groups or practices may be combined based on registration numbers.
Games
The U6, U7, U8 groups will play games on weekends, typically Saturdays between 9:00 AM – 2:00 PM.
2023/2024 GAME SCHEDULE
The U5 group will not play separate weekend games. Game play will be included in their weekly practice session.
Facilities
Erie Premier Sports West (EPS West): main game and practice facility
EPS West
4504 W Ridge Rd
Erie, PA 16506
Erie Premier Sports Pennbriar (EPS Pennbriar): secondary practice facility, and occasional games
EPS Pennbriar
100 Pennbriar Dr
Erie, PA 16509
Both indoor facilities have field turf. Sneakers, indoor soccer shoes, or plastic molded outdoor soccer shoes may be worn. No metal cleats.
Player Dues & registration
Player Dues
Player dues are listed below within each age group program.
You may choose to pay in monthly installments or pay in full for the season.
A 5% discount is applied if paid in full at the beginning of the year.
Uniform Fee
Uniforms are purchased separately via the ERIE FC Team Store.
After a completed registration, player names will be added to the Team Store. You will receive a link to order the required uniform items directly from the uniform provider.
Player Registration
Open Enrollment: Players may join or cancel at any time throughout the season. Dues will be adjusted accordingly.
REGISTER A PLAYER
---
Age Group Details
Please review the details of pricing, format, and practice options for each age group / birth year.
U5 (2019)
U6 (2018)
U7 (2017)
U8 (2016)